Regular price
Sale price
79.99
Unit price
per
Sale
Sold out
468 visitors currently looking at this product
It's been recommended by 8.89K people on Facebook, Twitter and Instagram
Only 376 items left in stock
Free Worldwide Shipping

We offer free worldwide tracked shipping for any order!
Money Back Guarantee

If you're not 100% satisfied within the first 30 days, just send it back to us and we'll give you a full refund.
Shipping Information

We make every effort to process and ship your order within 1-2 business days.

Delivery times may vary depending on your location, but most orders will arrive within 7-14 business days after processing
Effortless Cleaning Redefined - Embrace the Future of Cleanliness!
Bid farewell to the burdensome task of hauling heavy vacuum cleaners! Step into a new era of effortless cleaning with our state-of-the-art Cordless Vacuum Cleaner - a trusted companion for all your cleaning needs.
Say goodbye to outdated cleaning methods as you welcome a revolutionary device, brimming with ingenious features. Experience a paradigm shift in your cleaning routine with this powerhouse cleaning tool.
Why People Love Our Vacuum Cleaner
✅ Suck and Blow Function - Our handheld vacuum cleaner takes versatility to a whole new level with its unique suck and blow function. Easily switch between modes to effortlessly clean up dust, debris, and even spilled liquids. The powerful suction ensures no mess is left behind, while the blowing feature is perfect for cleaning hard-to-reach corners and inflating air mattresses or toys.
✅ Lithium Rechargeable Battery - Say farewell to the constant hunt for power outlets or dealing with cumbersome cords. Equipped with a high-capacity lithium rechargeable battery, this handheld vacuum cleaner offers long-lasting performance and freedom of movement. Enjoy the convenience of cordless cleaning and take it anywhere around your home, car, or even on outdoor adventures.
✅ German Motor for Reliability - We understand that reliability is paramount when it comes to cleaning equipment. That's why our handheld vacuum cleaner boasts a top-of-the-line German motor known for its durability and superior performance. You can trust this powerful motor to deliver consistent suction power, ensuring that every speck of dirt is removed with ease.
✅ Impressive 13000pa Suction Power - Don't be fooled by its compact size; this handheld vacuum cleaner packs a punch with its impressive 13000pa suction power. Whether it's fine dust, pet hair, crumbs, or even larger debris, this cleaning marvel handles it all with precision, leaving your surfaces spotless and immaculate.
✅ Sleek and Ergonomic Design - We believe that cleaning tools should not only perform well but also be comfortable to use. Our handheld vacuum cleaner features a sleek and ergonomic design that fits perfectly in your hand, reducing strain during extended cleaning sessions. Its lightweight construction makes it easy to maneuver, ensuring every nook and cranny is reached effortlessly.
✅ Easy to Clean and Maintain - Cleaning the vacuum cleaner should not be an additional chore. Our handheld vacuum cleaner's dustbin is designed for easy disassembly, allowing for quick and hygienic emptying. Additionally, washable filters make maintenance a breeze, ensuring your cleaner remains in top-notch condition for years to come.
Empower yourself with the ultimate all-in-one Cordless Vacuum Cleaner. With its remarkable suction and blow capabilities, cutting-edge lithium rechargeable battery, dependable German motor, and robust suction power of 13000pa, it becomes the perfect cleaning companion for any household. Say goodbye to cleaning hassles and welcome a new era of efficiency. Experience the transformative difference today and take your cleaning tasks to new heights!
Specifications:
Material: ABS
Size: 21 x 16 x 6.5CM
Rated voltage: DC 11.1V
Suction: about 13000pa
Rated speed: 35,500 RPM
Battery capacity: 3 x 2000mAh
Charging mode: 5V USB boost charging cable
Rated power: 120W
Operating temperature: -20 ℃ ~ +50℃
Package Includes:
Vacuum cleaner x 1
Accessories x 6
Charging cable x 1
User manual x 1
Note: Please charge it well before use, long press for three seconds to turn on the machine, and then long press to switch to high gear.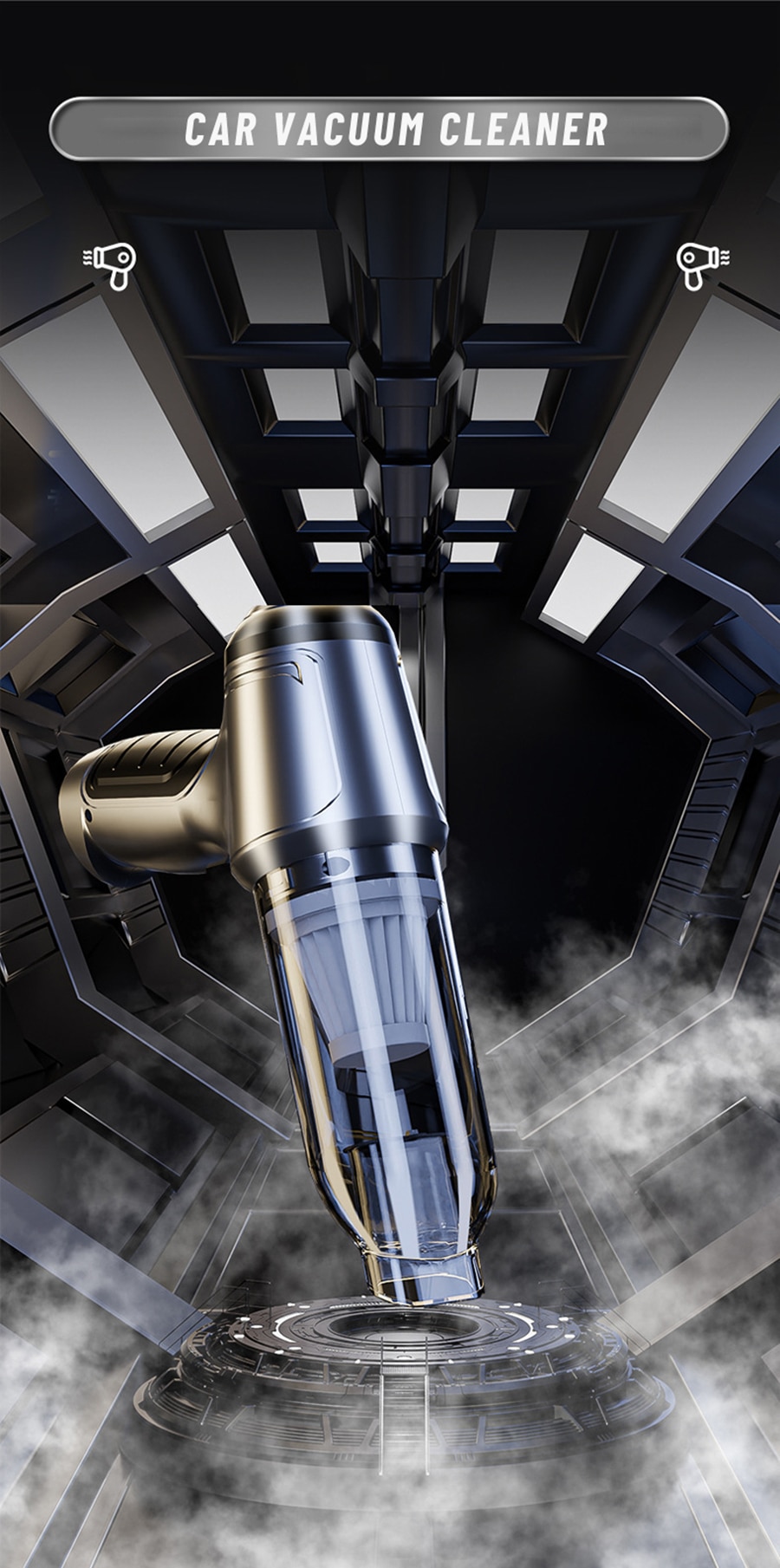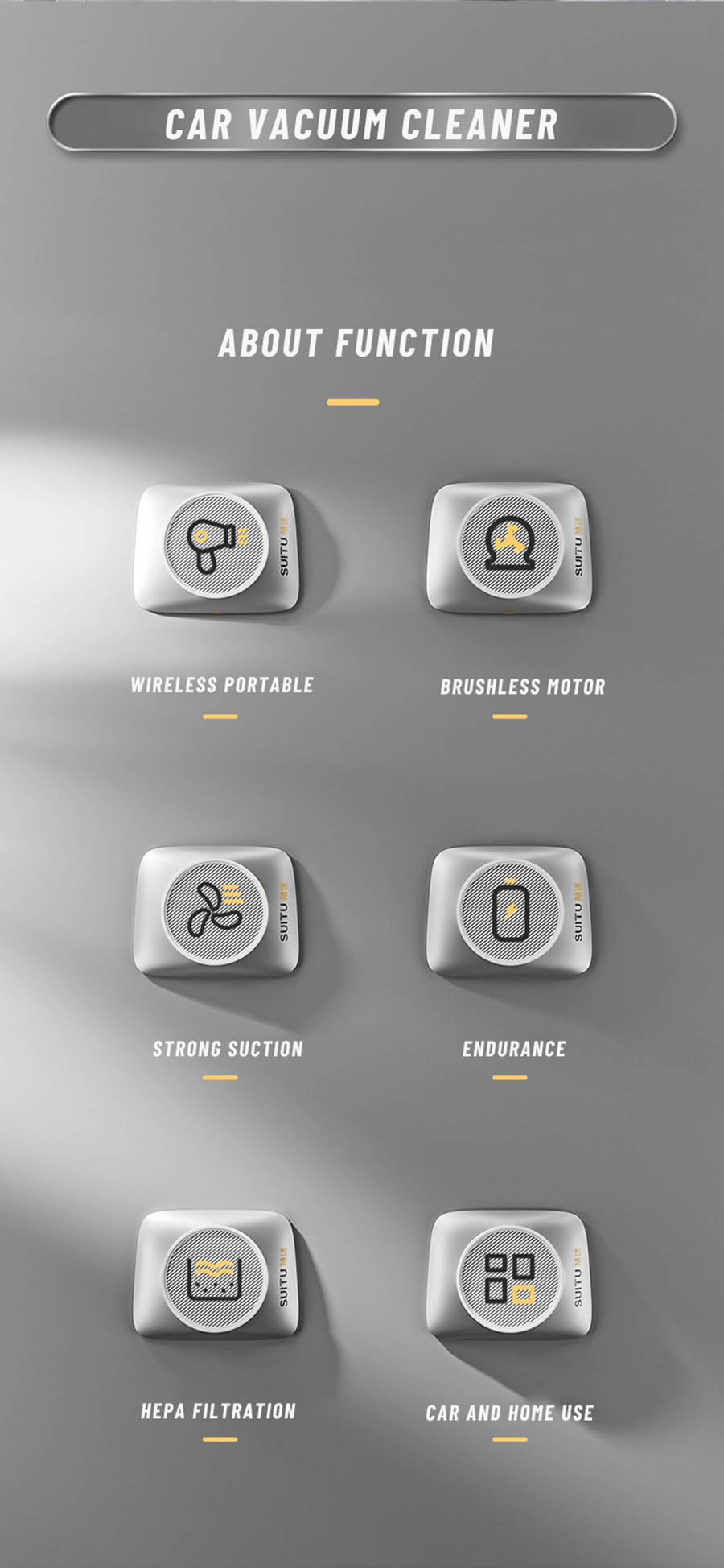 13000 Pa Strong Suction
The powerful suction of 13000Pa is suitable for cleaning cars, homes and offices.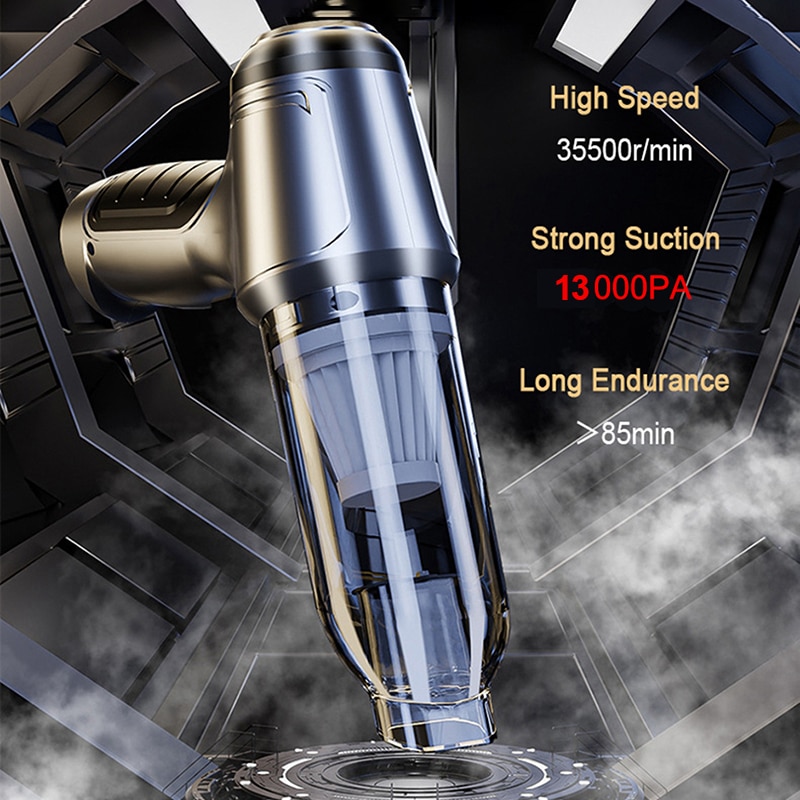 Pure Copper Motor
The pure copper motor is not easy to rust, and the suction power can reach 13000Pa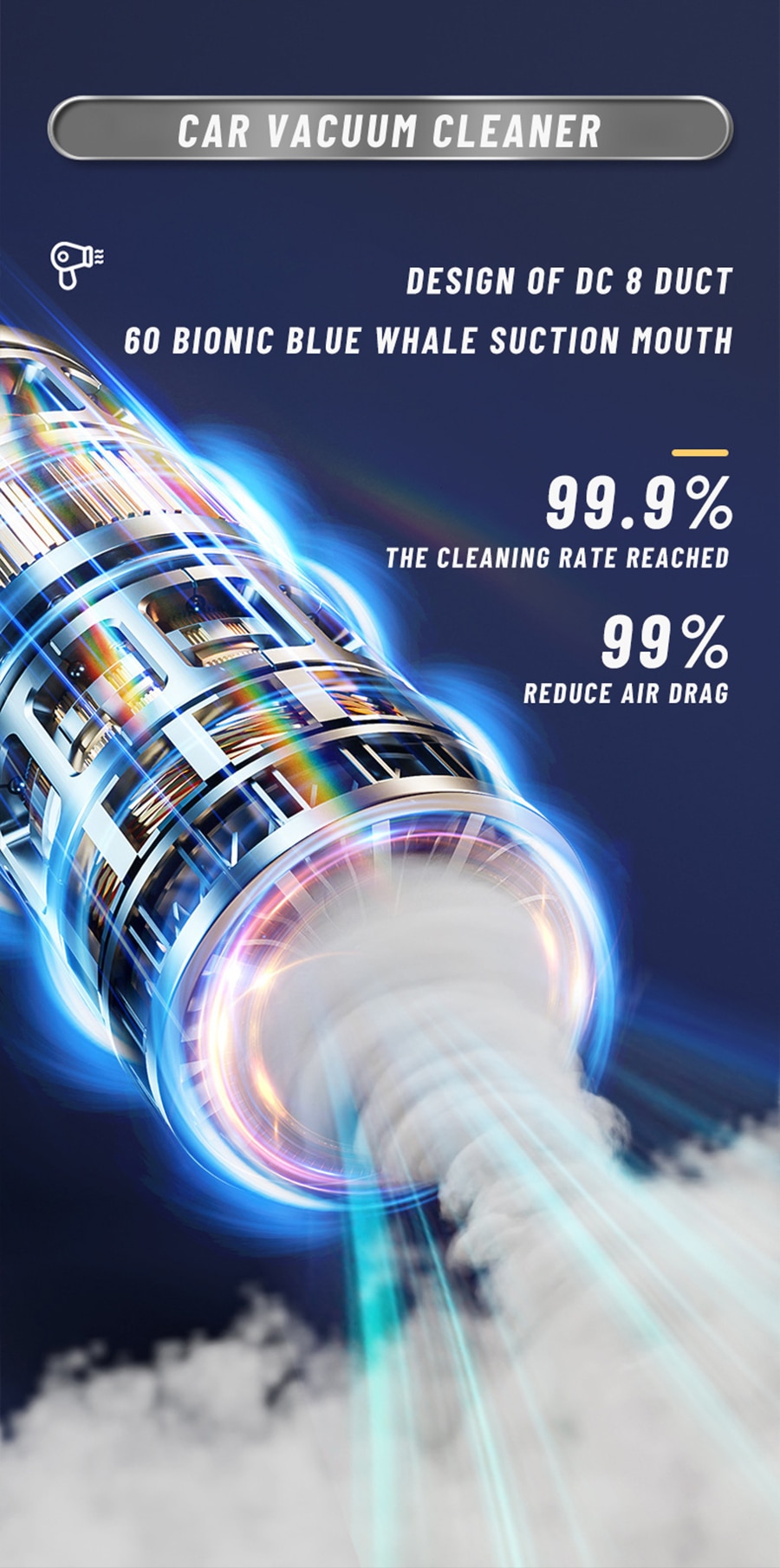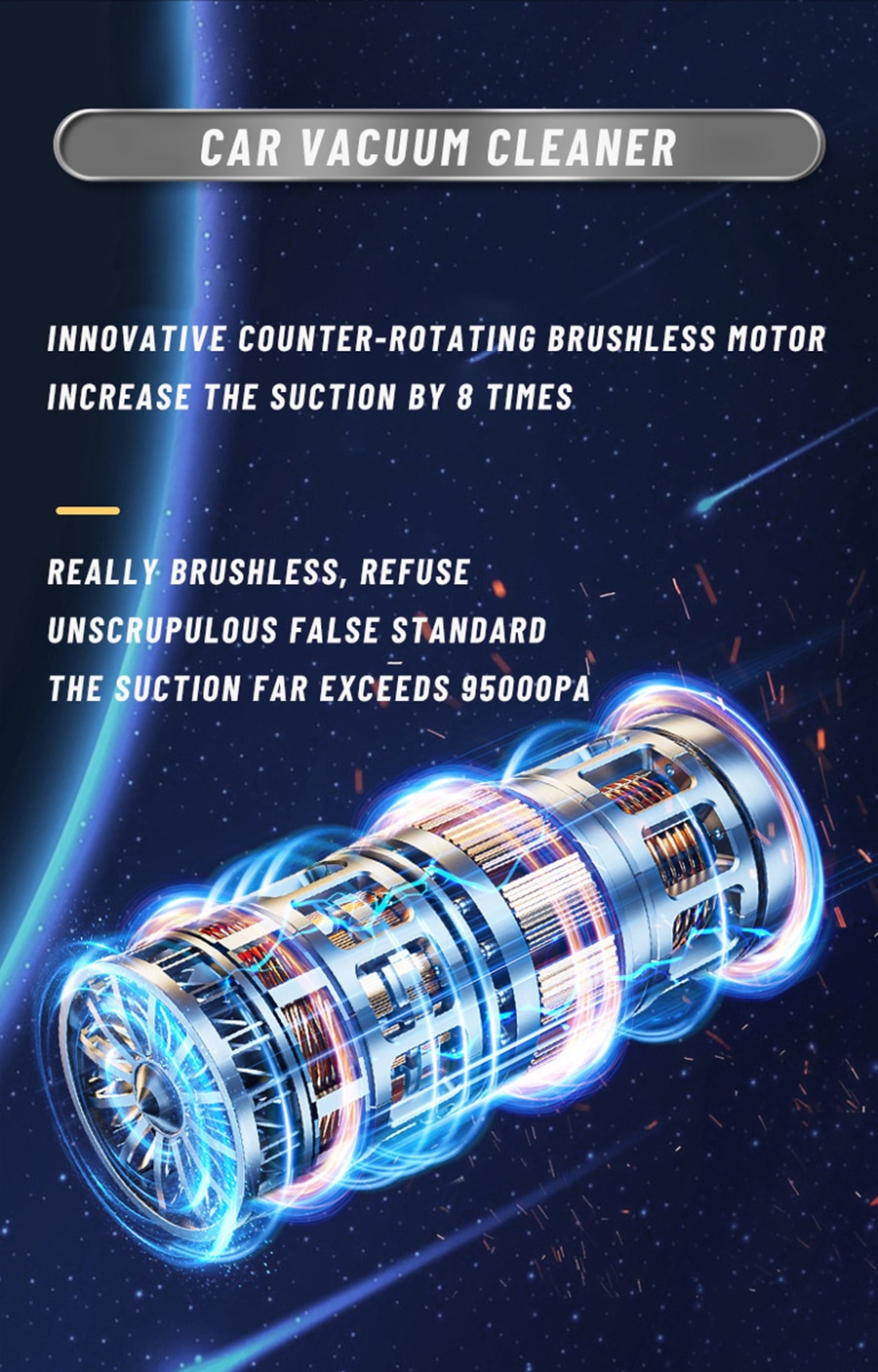 Large Capacity Battery
6000mA battery The large-capacity battery can support up to about 40 minutes of operation.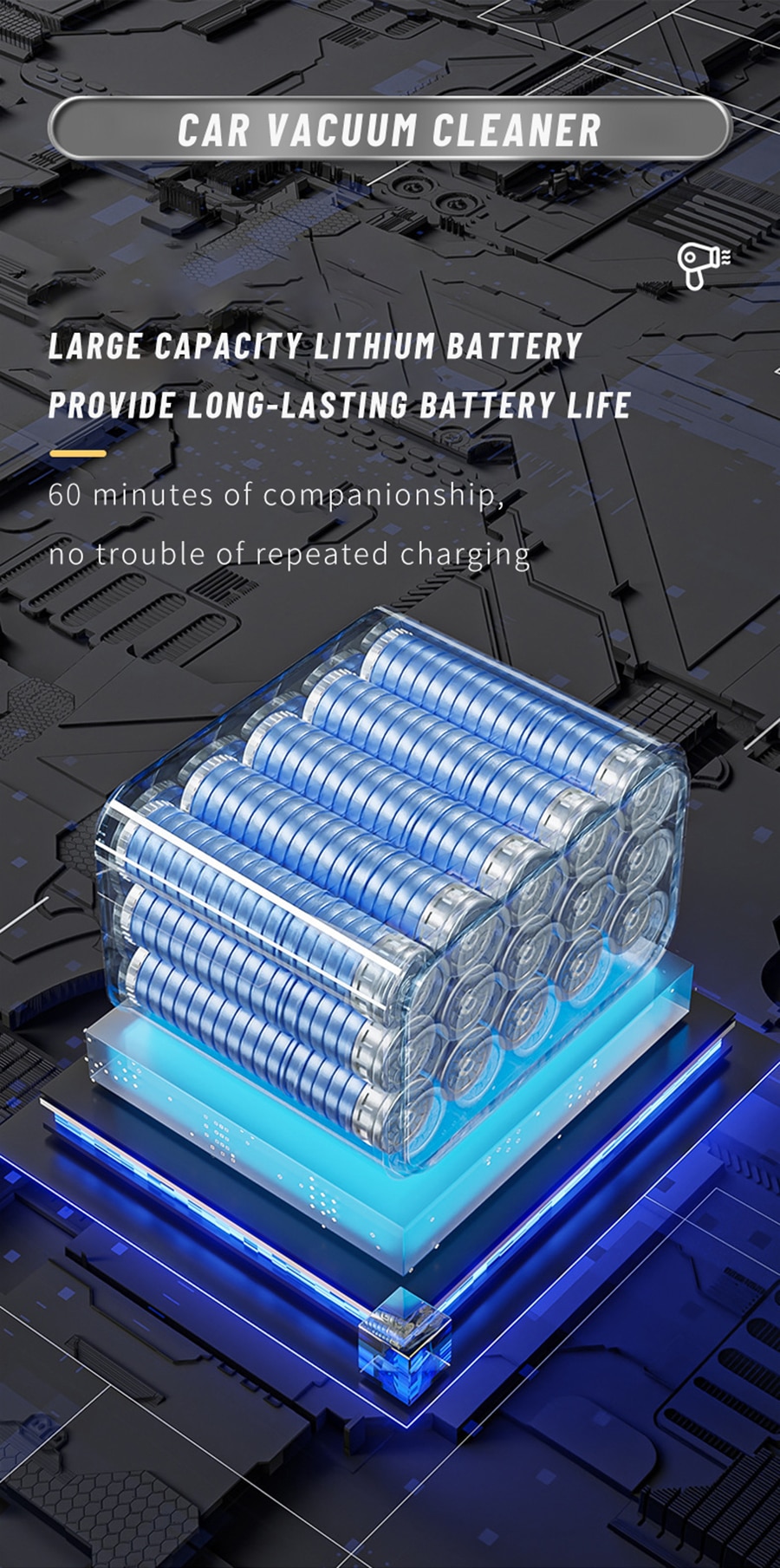 Multifunctional Vacuum Cleaner
This product can be used as a vacuum cleaner or a blower, equipped with four adapters, which can work in various scenarios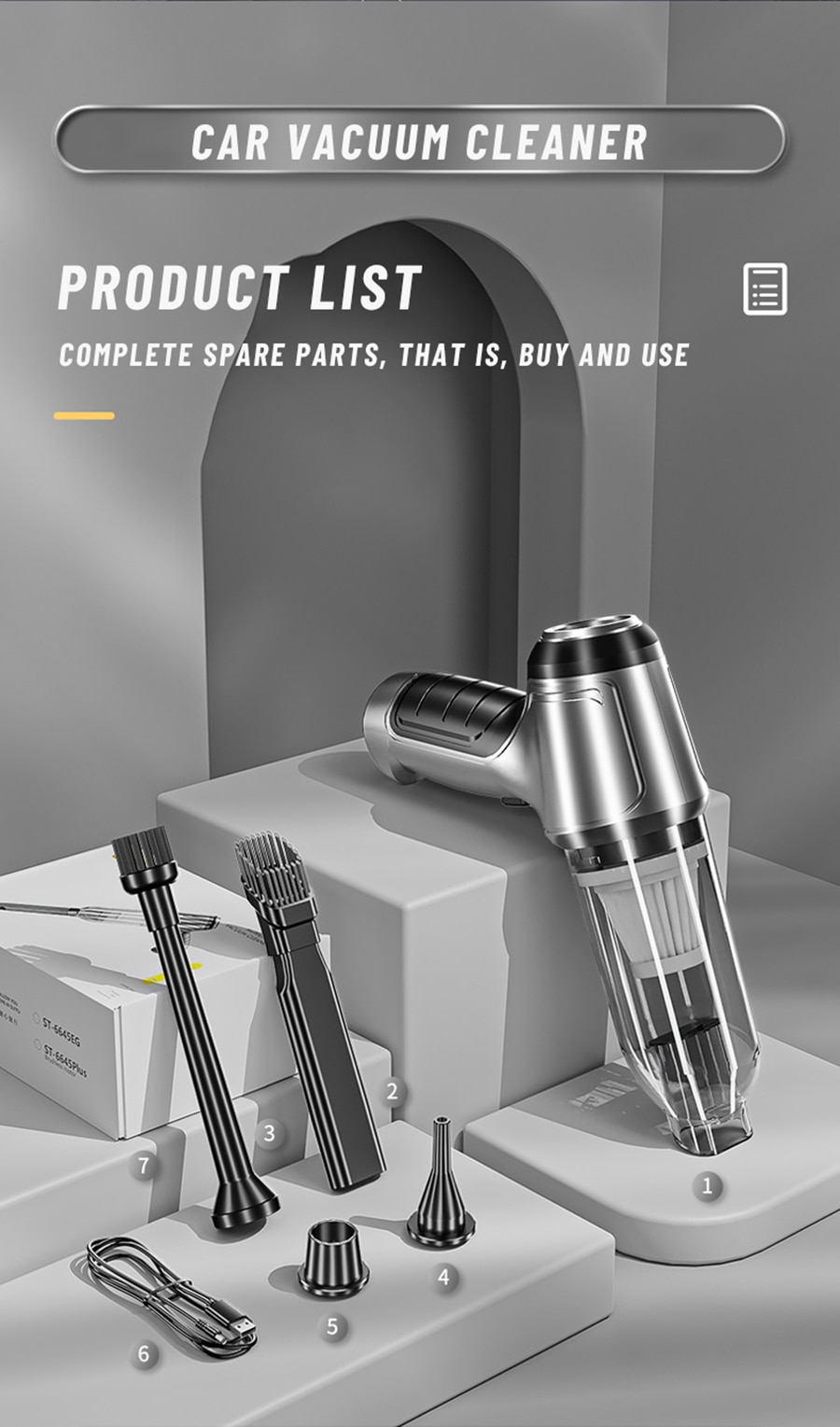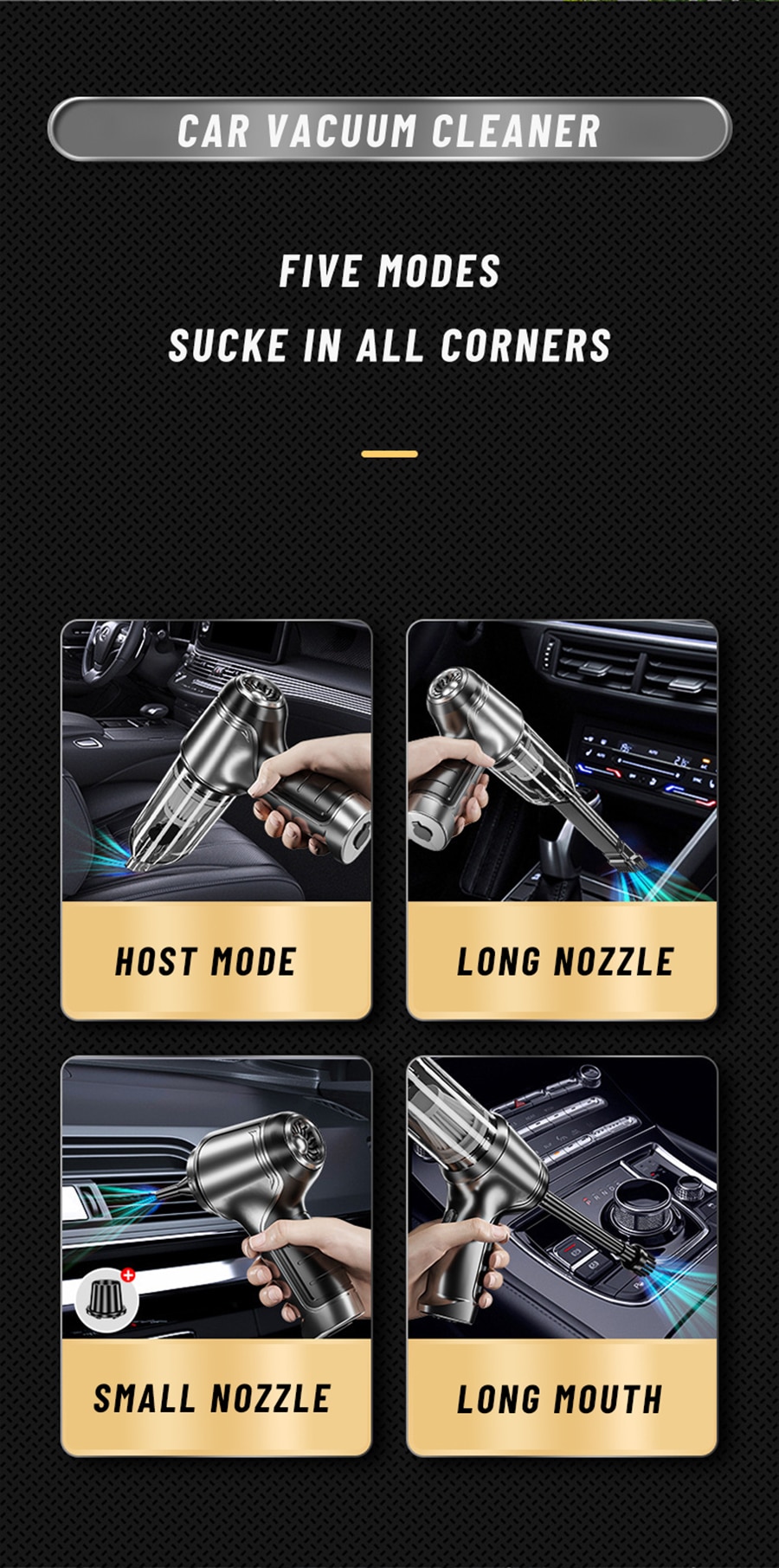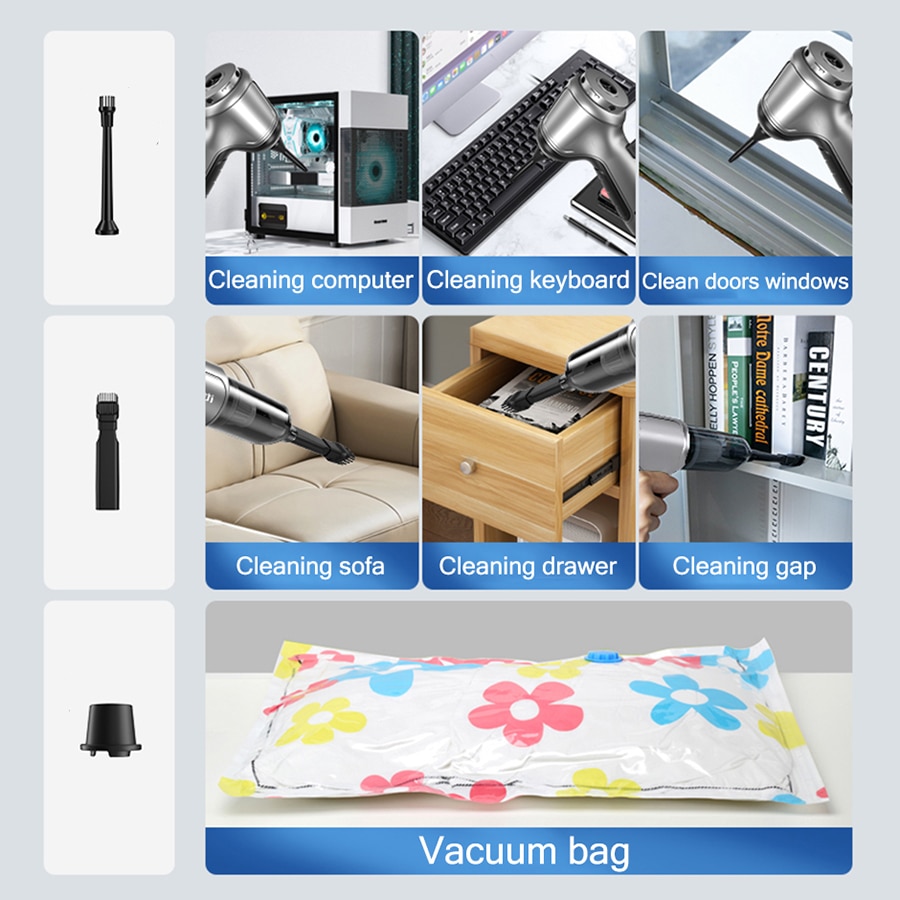 Product Details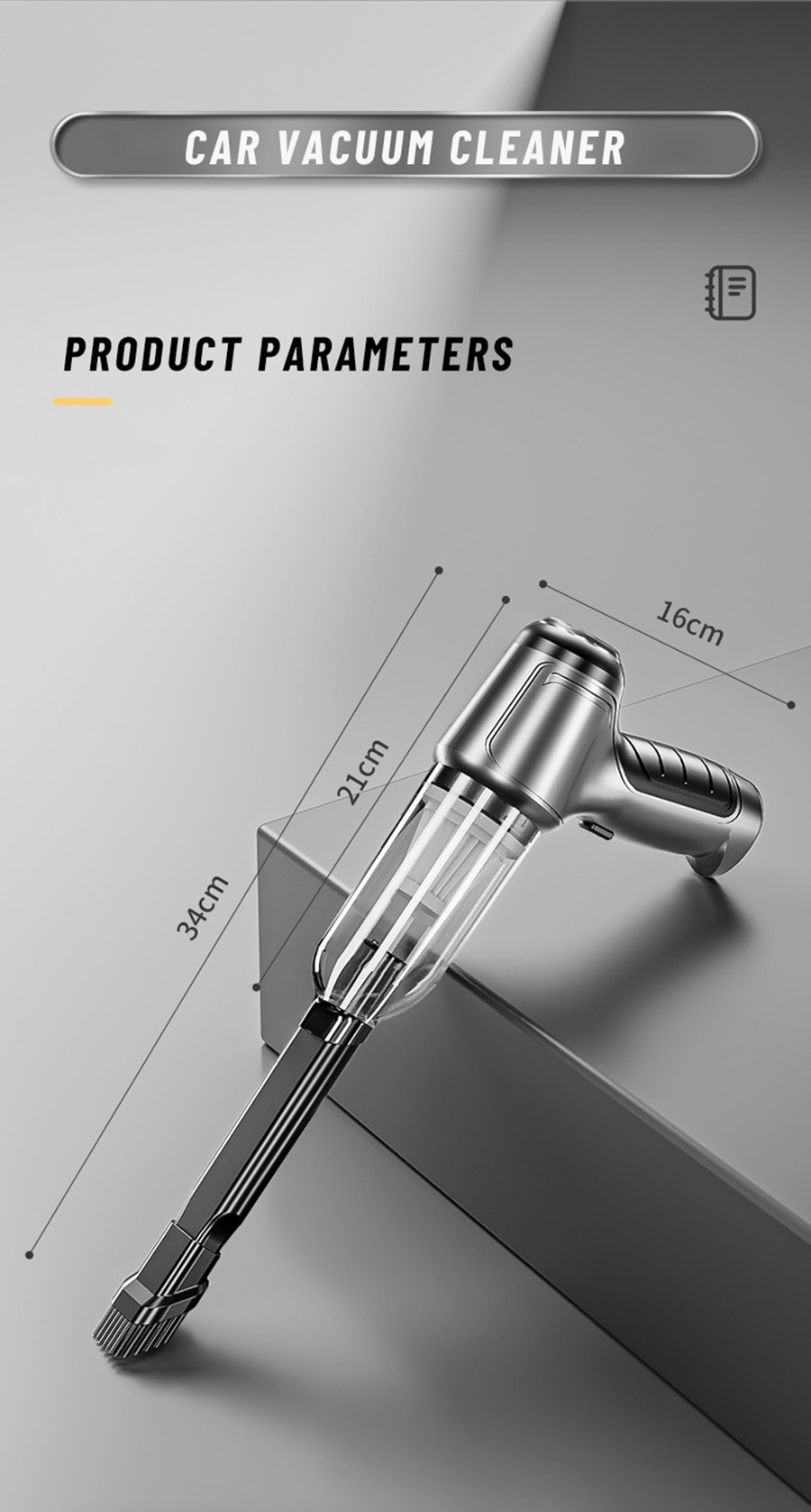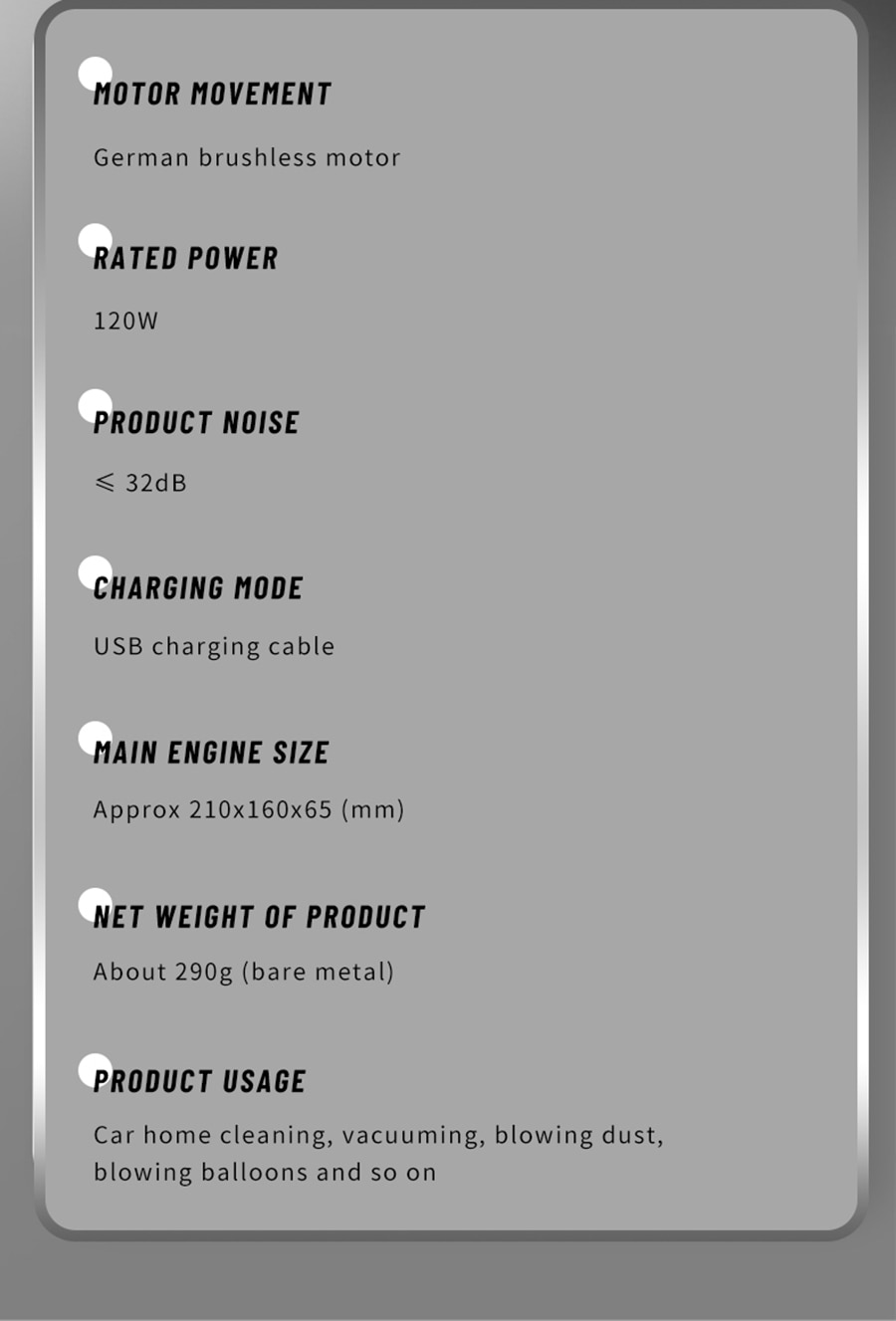 View full details