Ignite Dreams and Empower Young Minds
🚀 Cultivate confident learners
✨ Develop cognitive, creative skills & spark imagination
🧠 Enhance problem-solving abilities
🔍 Increase focus and attention span
⏳ Learn patience and persistence
🛡️ Safe, durable, and child-friendly materials
🎄CHRISTMAS SPECIAL OFFER🎄
UP TO 60% OFF!
Regular price
120.00 USD
Sale price
59.95 USD
Unit price
per
Sale
Sold out
Free Shipping

We offer free tracked shipping for any orders.
Our Guarantee

If you're not 100% satisfied within the first 30 days, just send it back to us and we'll give you a full refund.
Suitable Age

Suitable for age 3 and above (Parents may provide proper guidance and supervision)
Package Includes

96 pieces of racing track (2.36m / 7.7ft length)
1 dinosaur car (with LED light and sound) - 3 AAA 1.5V batteries not included
3 additional medium-sized dinosaur cars
View full details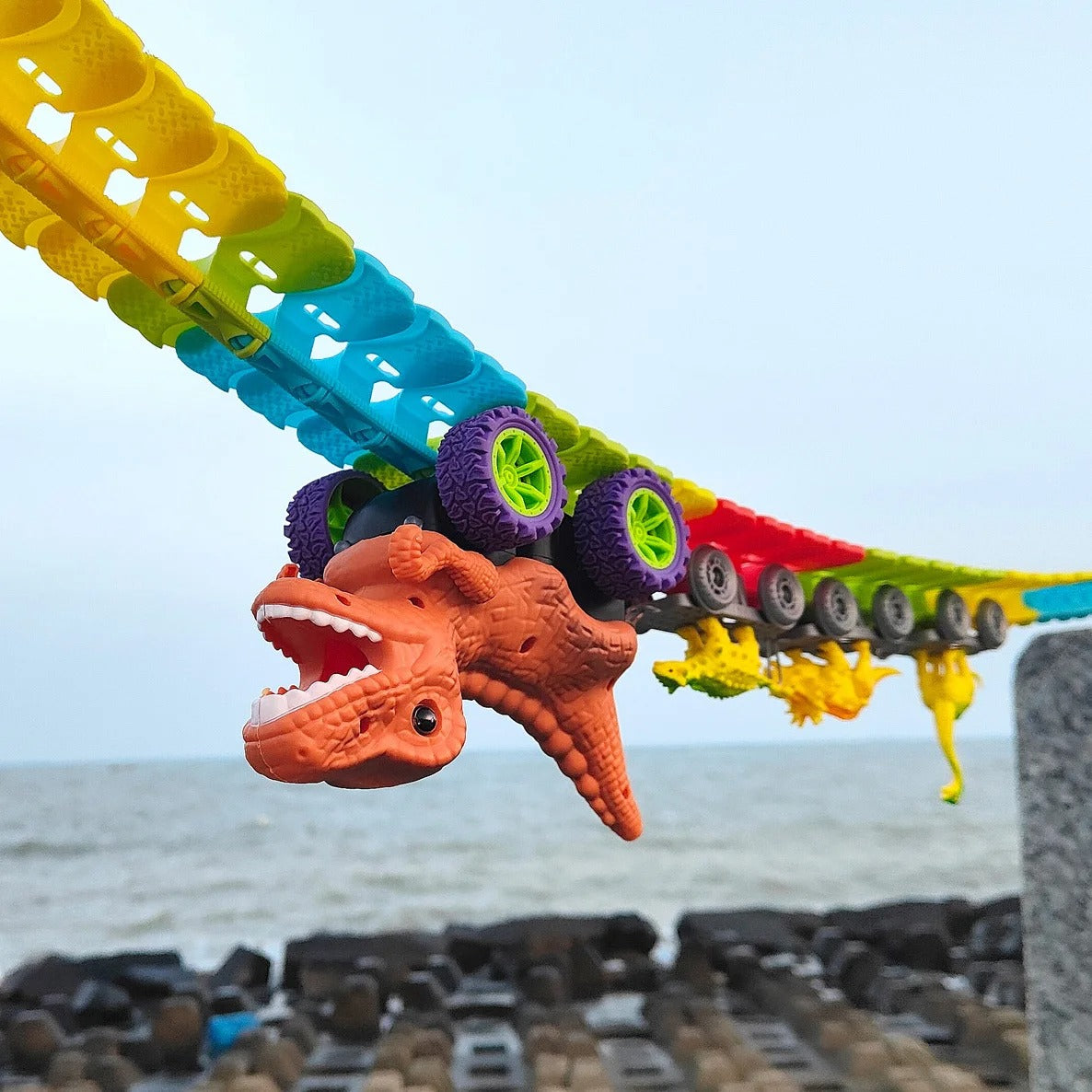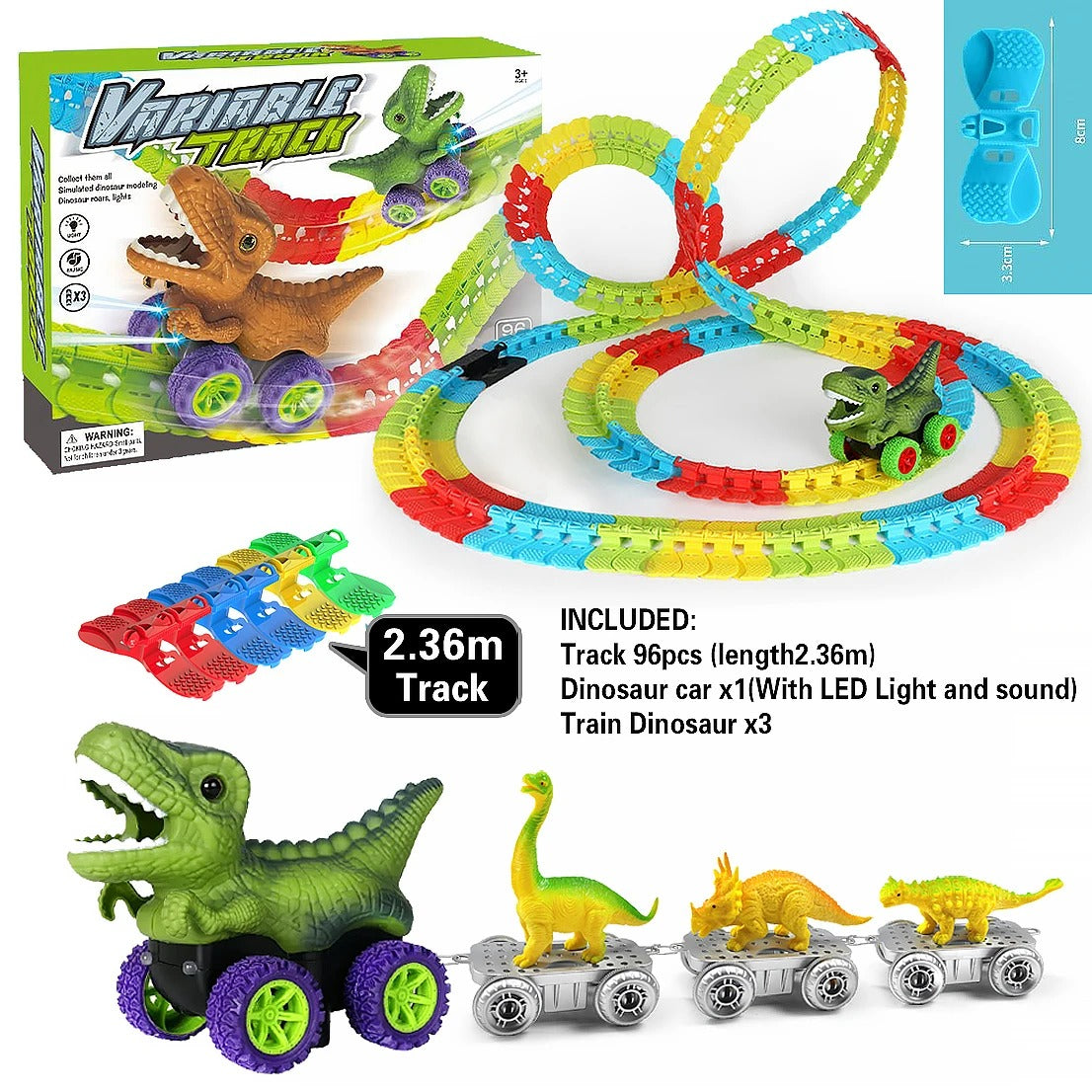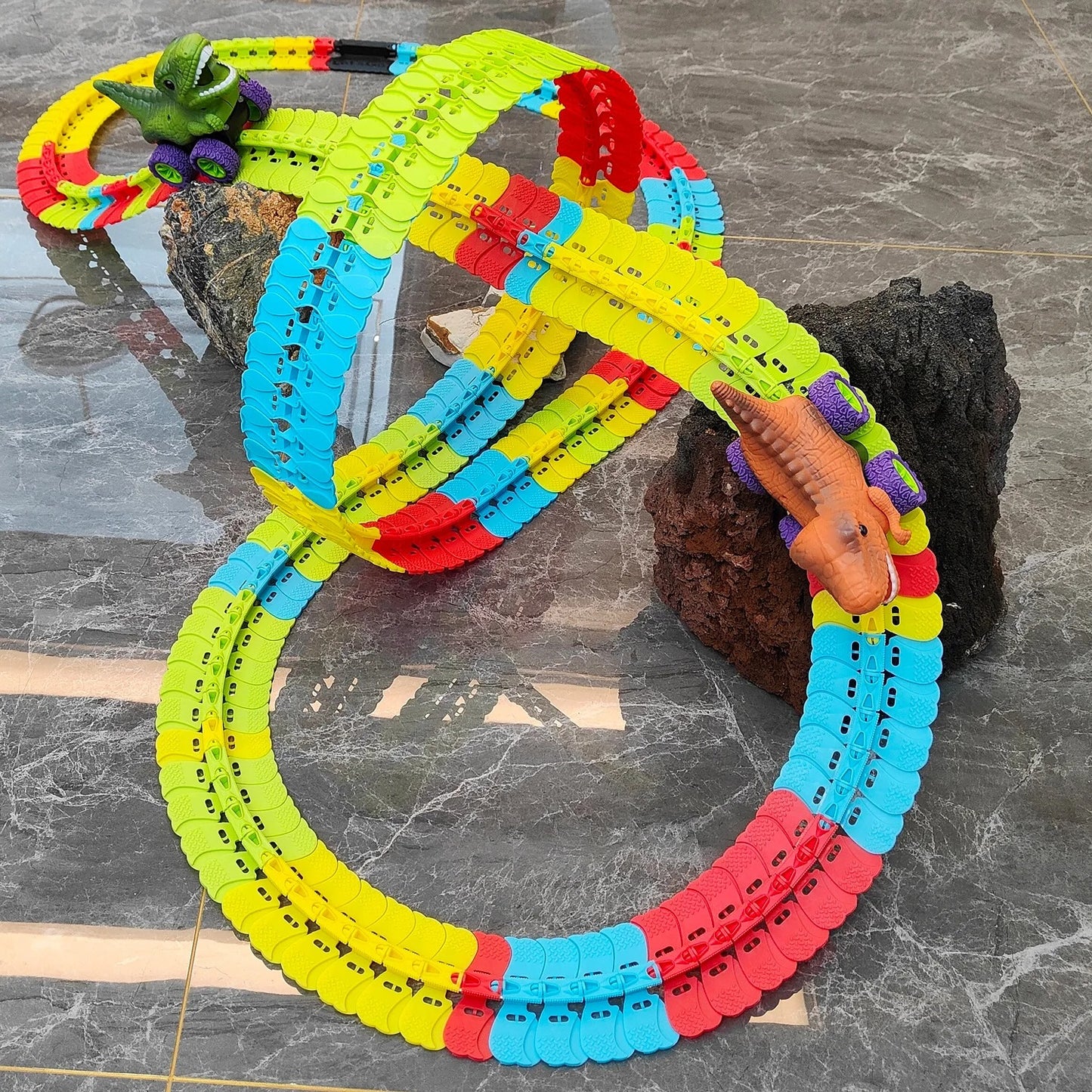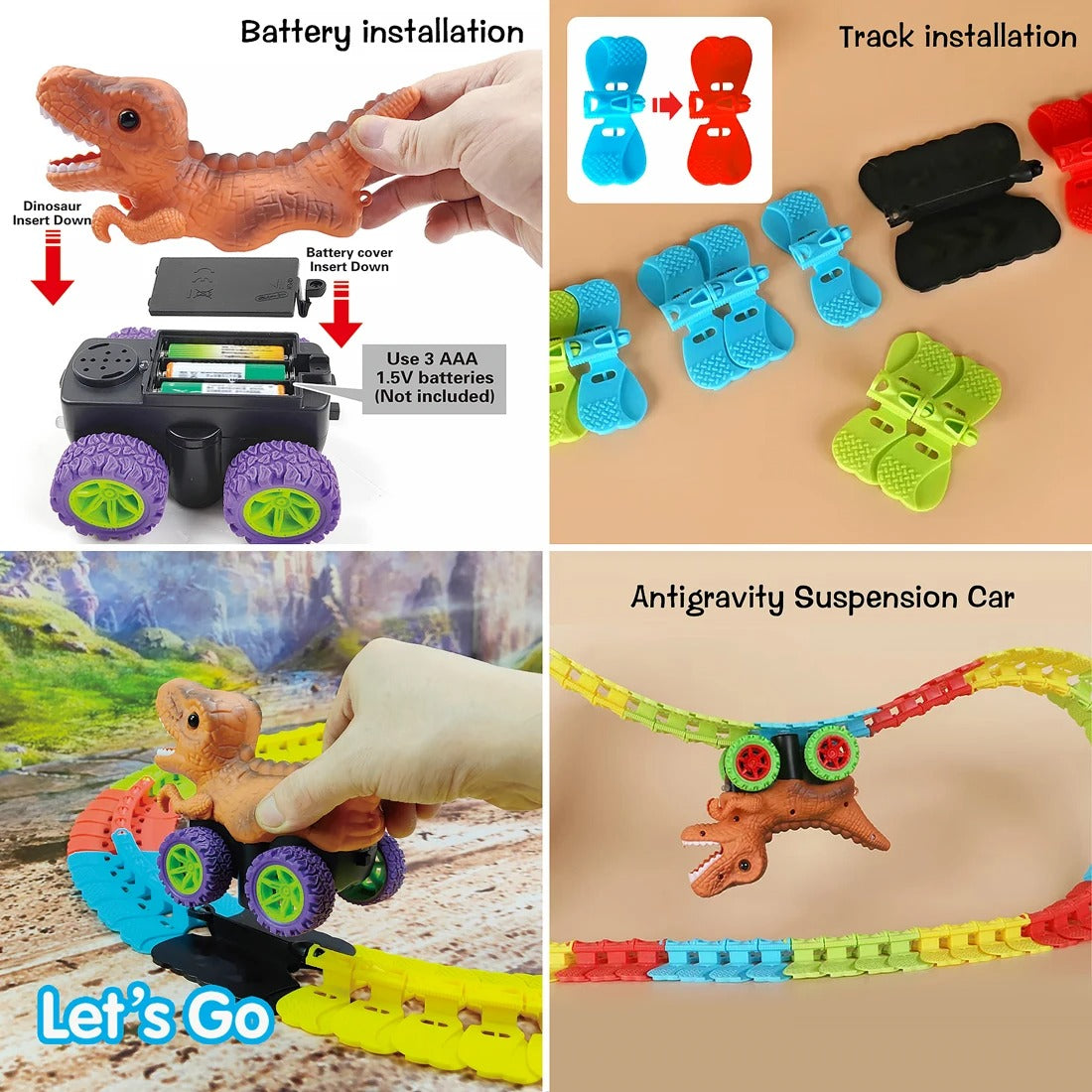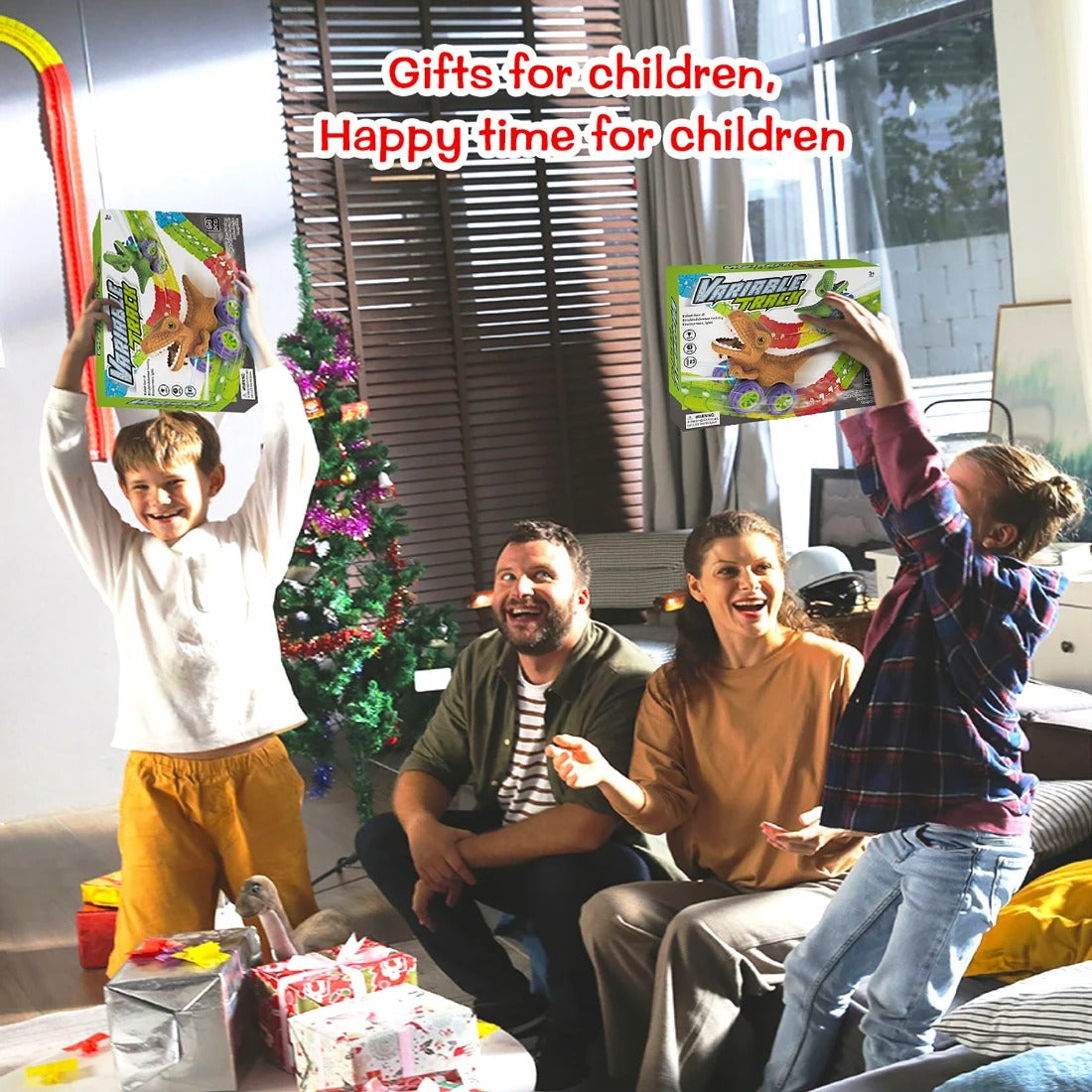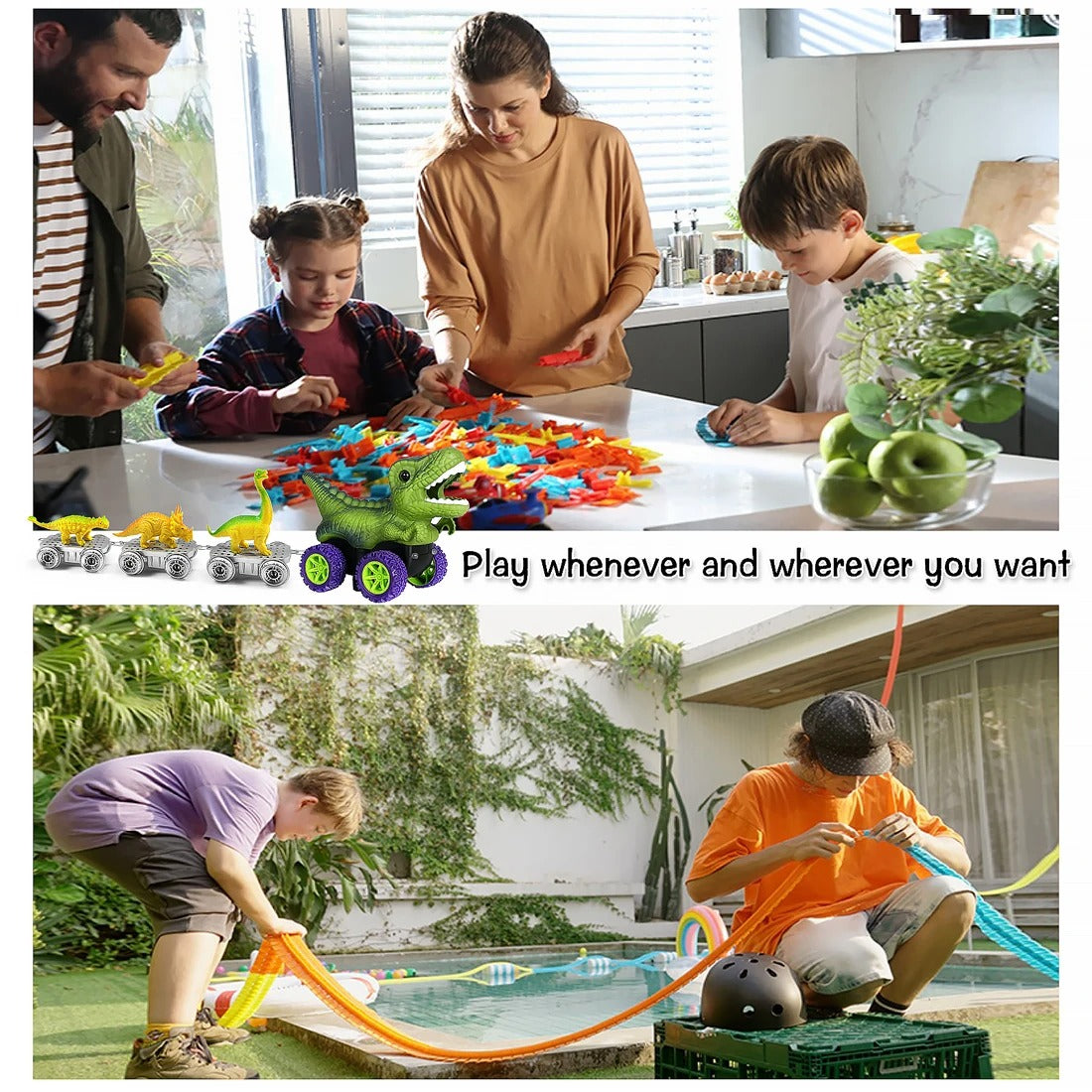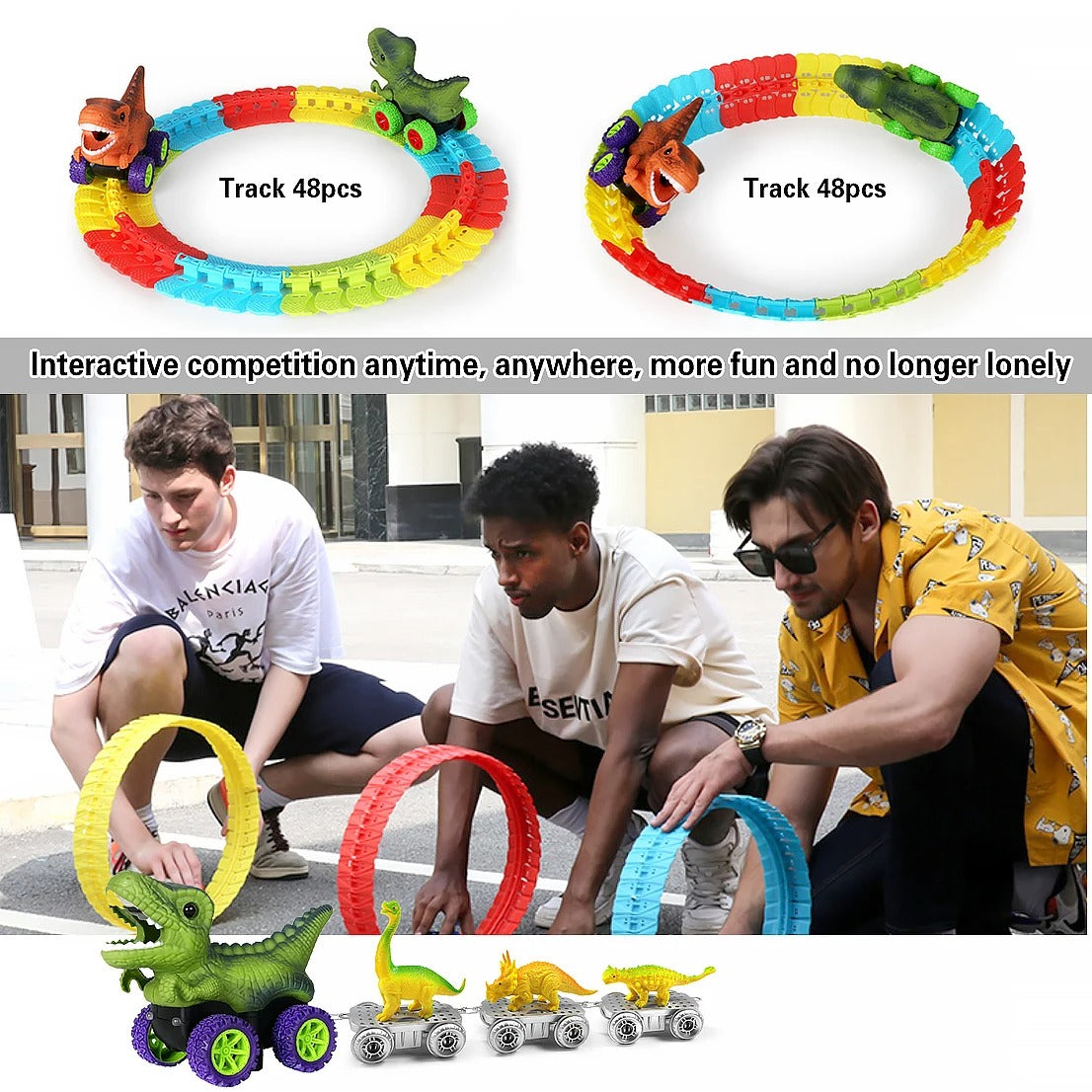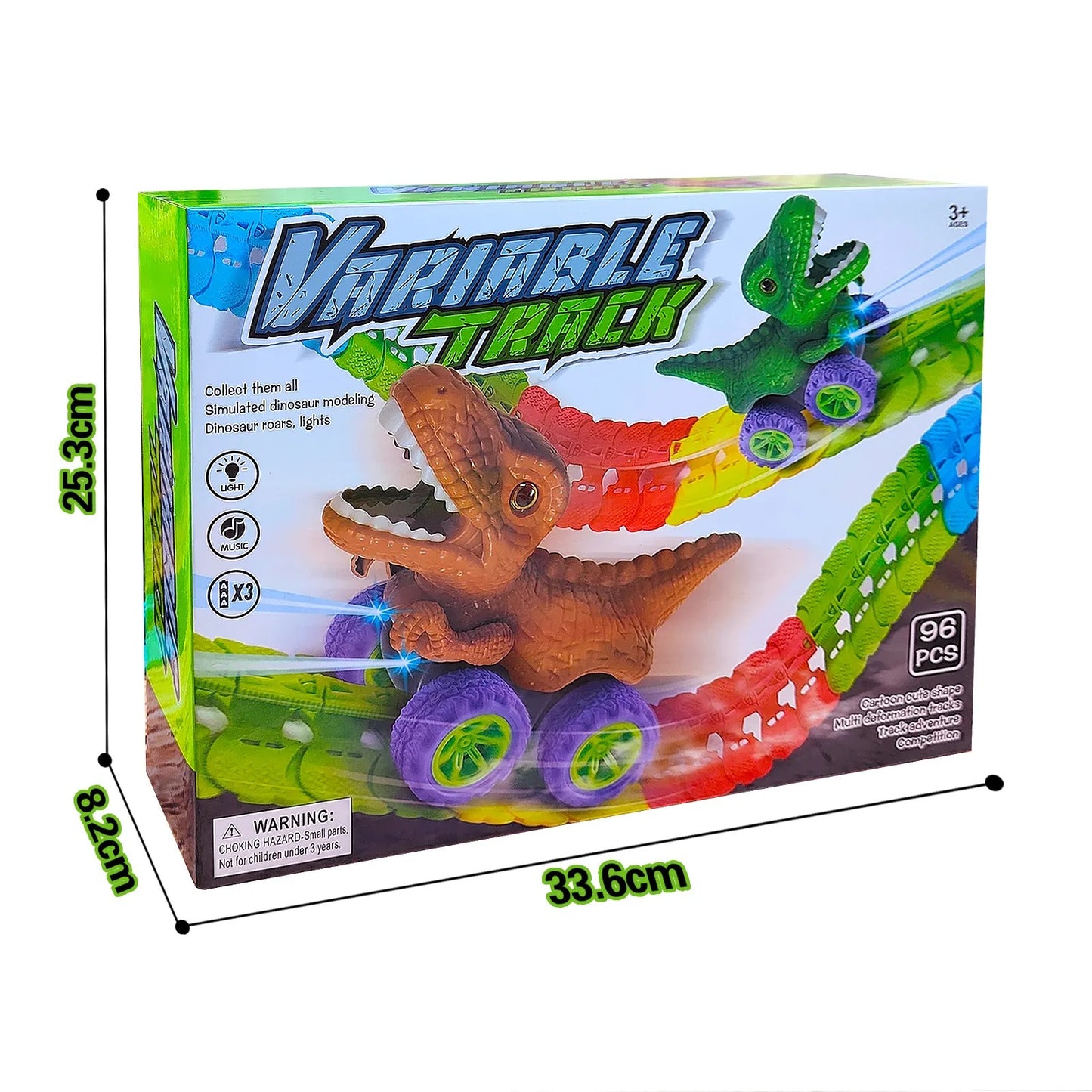 ⭐⭐⭐⭐⭐

Awesome Toy!

"My kids absolutely love it! The track is easy to assemble, and the roaring sound effects make it even more exciting. Hours of fun and imaginative play. Highly recommend!"

- Sarah J. Mom on a Mission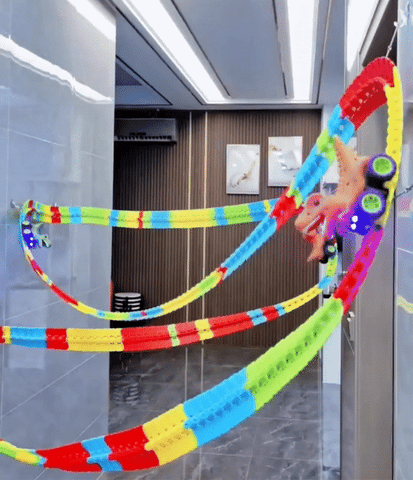 Unleash Endless Fun with Screen-Free Playtime
Step away from digital gadgets and let your kids experience the true joy of childhood with the DinoRacer™! With steep inclines, overhead rides, spirals, and crazy slopes, this thrilling toy guarantees endless hours of fun, excitement, and unforgettable adventures without the need for screens. Say goodbye to screen time and ignite their imagination with the DinoRacer™!
Why DinoRacer™ Track Set Is The Best Toy?
Endless Entertainment

Provides hours of non-stop fun for kids, keeping them engaged and entertained.

Imaginative Play

Children can unleash their imagination and create thrilling race scenarios while exploring their creativity.

Skill Development

Promotes problem-solving skills as children design and assemble different track configurations, enhancing their critical thinking abilities.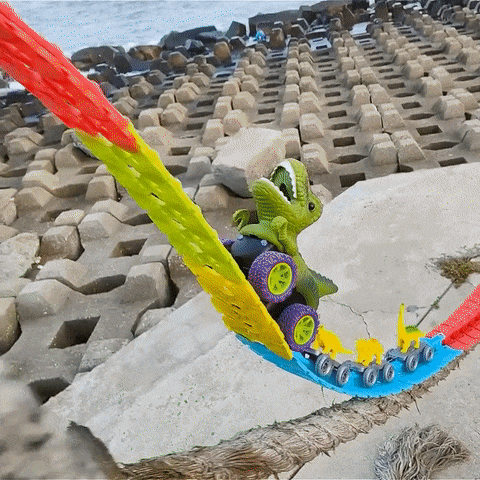 Ignite Creativity and Holistic Development
Cultivate your kids' patience, perseverance, and creativity with the DinoRacer™ Track Set. Watch as they skillfully put together and flexibly build colorful racing tracks, creating a captivating fantasy dinosaur racing world. This toy sparks imagination while promoting holistic development, providing endless hours of educational and imaginative play.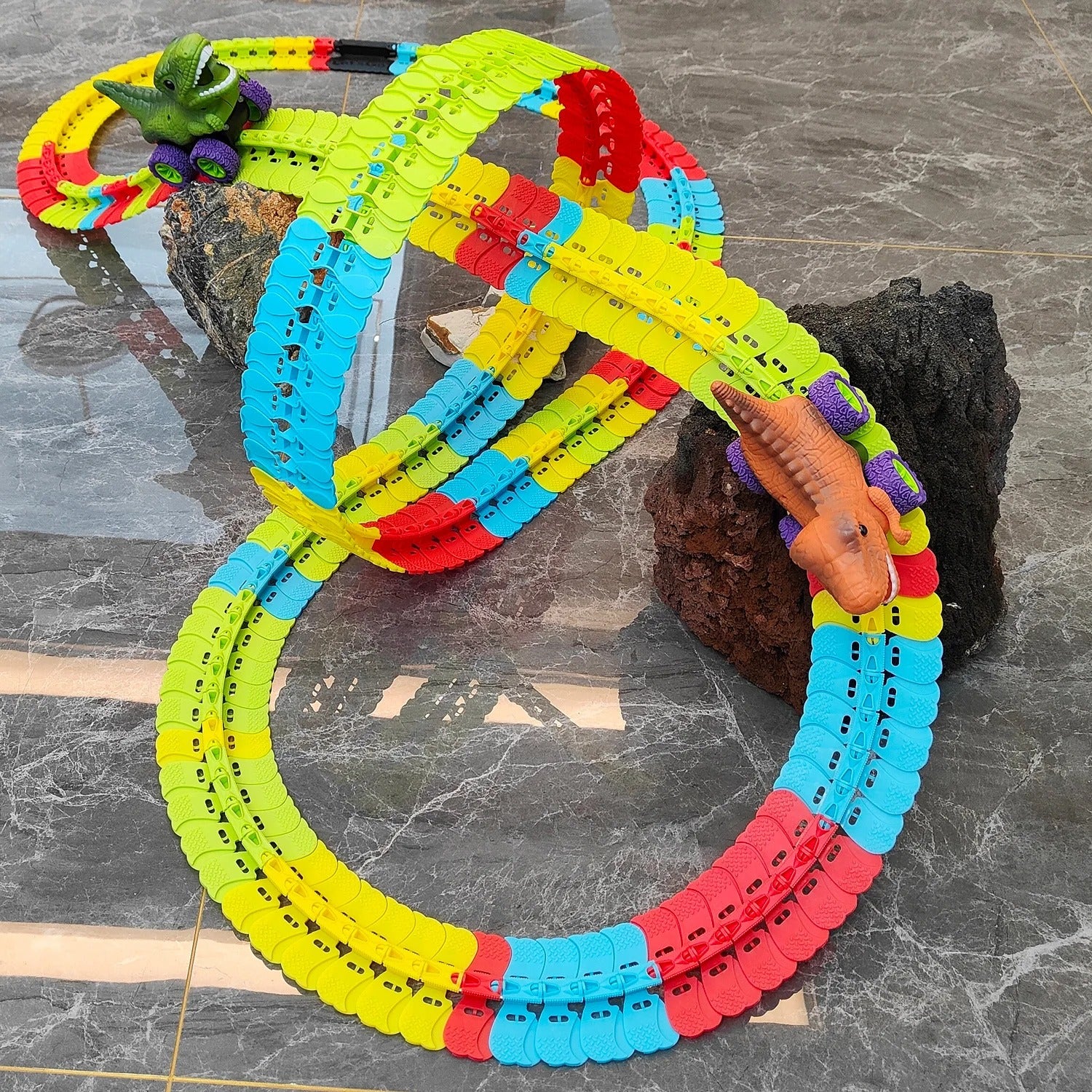 Endless Adventure Awaits
The DinoRacer™ Track Set opens the door to boundless adventure for children. With its flexible tracks, LED lights, and realistic sound effects, kids can embark on countless thrilling race scenarios, exploring their imagination and creating exciting stories along the way. From daring loops to gravity-defying turns, the possibilities for adventure are limitless.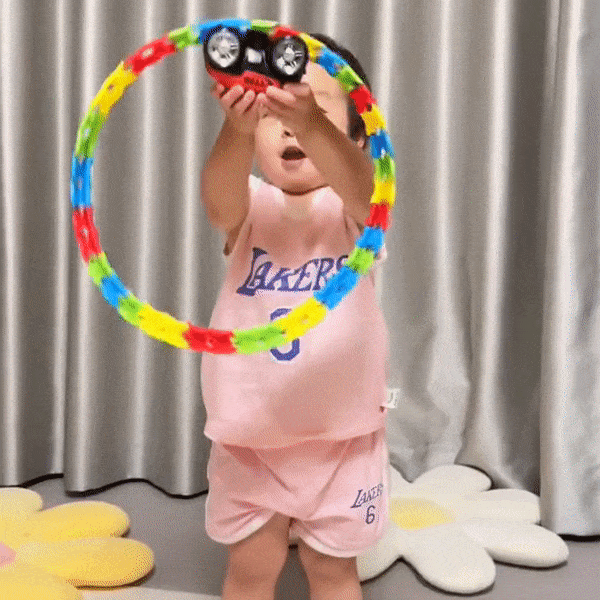 Develops Essential Skills
Beyond entertainments, the DinoRacer™ Track Set offers valuable skill development opportunities. As children design and assemble different track layouts, they enhance their problem-solving abilities and critical thinking skills. The hands-on manipulation of the track pieces and guiding the race car through the tracks also promotes fine motor skills, hand-eye coordination, and spatial awareness. Through play, children can learn and grow in a fun and engaging way.
30-Day Happiness Guarantee
we are committed to providing the best quality products that exceed your expectations. We are confident that you will be delighted with your purchase. However, if for any reason you are not completely satisfied within the first 30 days, simply return the product and we will gladly provide you with a 100% refund.
Questions From Our Customers
Is the DinoRacer™ suitable for children under 3 years old?

No, the DinoRacer™ is designed for children aged 3 and above. It contains small parts that may pose a choking hazard for younger children. We recommend following the age guidelines for the safety and enjoyment of your child.
How does the DinoRacer™ promote cognitive development in children?

The DinoRacer™ engages children in imaginative play and problem-solving scenarios, stimulating their cognitive skills. By designing and maneuvering the track, children enhance their spatial awareness, hand-eye coordination, and critical thinking abilities.
What makes the DinoRacer™ stand out from other racing toys?

The DinoRacer™ offers a unique combination of thrilling race car action and captivating dinosaur-themed adventures. With its innovative design and exciting features, it provides an immersive playtime experience that sets it apart from other racing toys in the market.
Can the DinoRacer™ be easily adjusted for different skill levels?

Yes! The DinoRacer™ features adjustable track configurations, allowing you to customize the difficulty level based on your child's skill and experience. You can create simple tracks for beginners or more challenging layouts to keep older children engaged and entertained.
How fast is shipping?

Our shipping typically takes between 7 to 14 business days for delivery. Please note that delivery times may vary depending on your location and any unforeseen circumstances.
How do I get in contact?

We're here to assist you! If you have any questions or need further assistance, you can reach out to our friendly customer support team by emailing cs@sallyeshop.com or by online chat. We'll be happy to help you with any inquiries you may have.